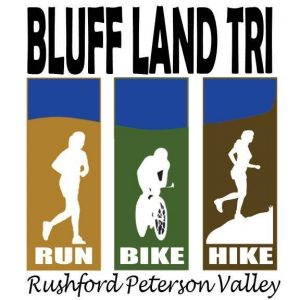 The Bluff Land Tri is an annual event hosted by the Foundation for R-P Schools.
The money raised funds scholarships and the Angel Fund, which helps local children in need.
Saturday, August 15, 2020
9:30am (check-in opens at 8:30am) at Creekside Park in Rushford
Enjoy the beautiful bluff country with its panoramic views along the Root River and atop Magelssen Bluff.

Challenge yourself to a

run/bike/hike event

that promises to be fun. Participate as an individual in all three events, or as a three person relay team. Chip timed. Medals will be awarded to top finishers in each category.

THANK YOU TO OUR 2019 SPONSORS!  *AcenTek, Anderson Auto, *Brown's Tire and Battery, Engelson & Associates, *Farmers Win Co-op, Fastenal, Horihan Insurance, Lind Awards Engraving, Lion's, M&M, Marine Credit Union, *Merchants Bank, *MiEnergy, Nordic Lanes/The Creamery, RiverSide Electronics, *R-P School Administration, Rushford American Legion, *Rushford Foods, *Rushford Lutheran Men's Club, *Rushford State Bank, Shawnee's Bar & Grill, *Thrivent.

* denotes a major sponsor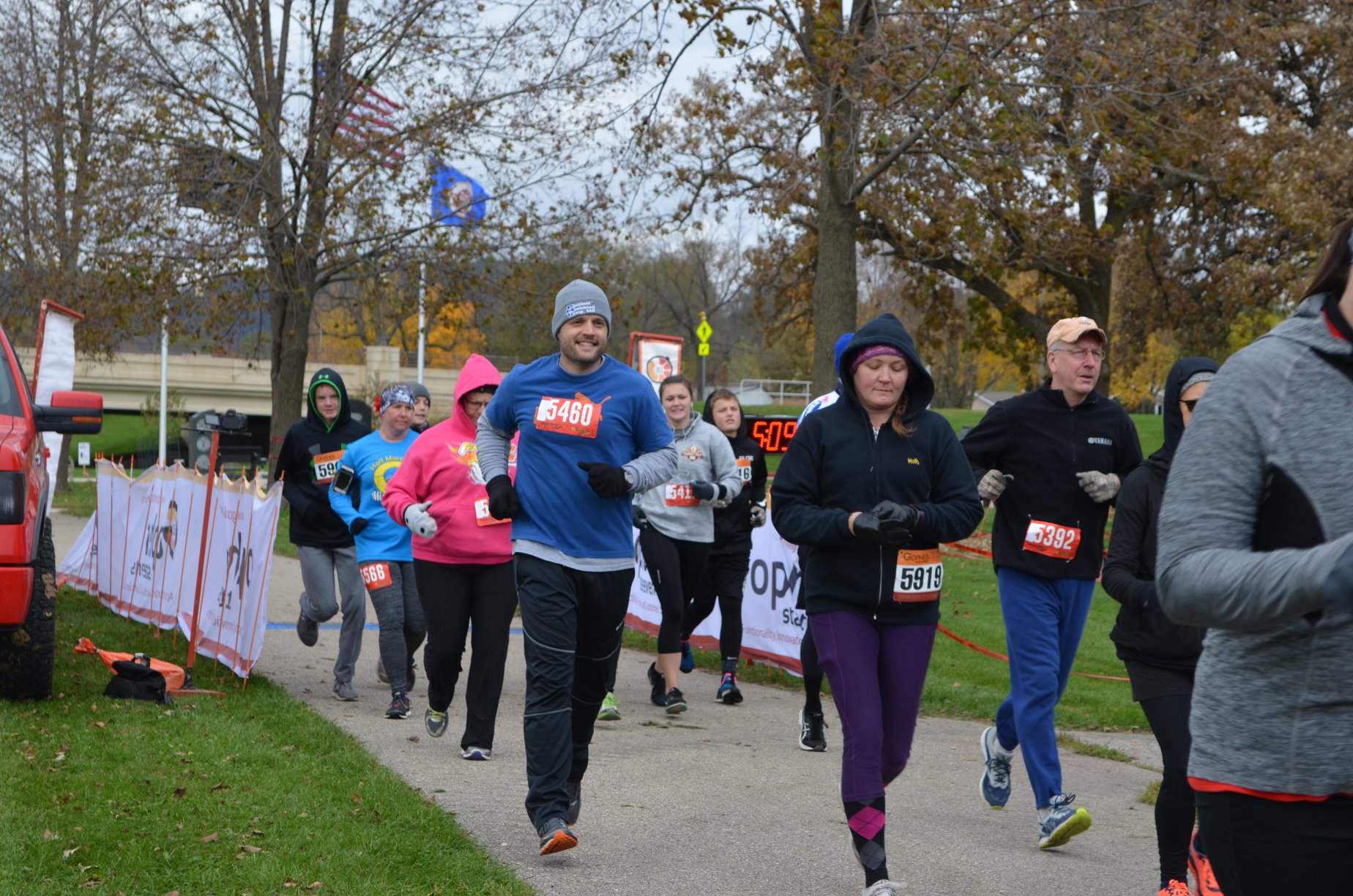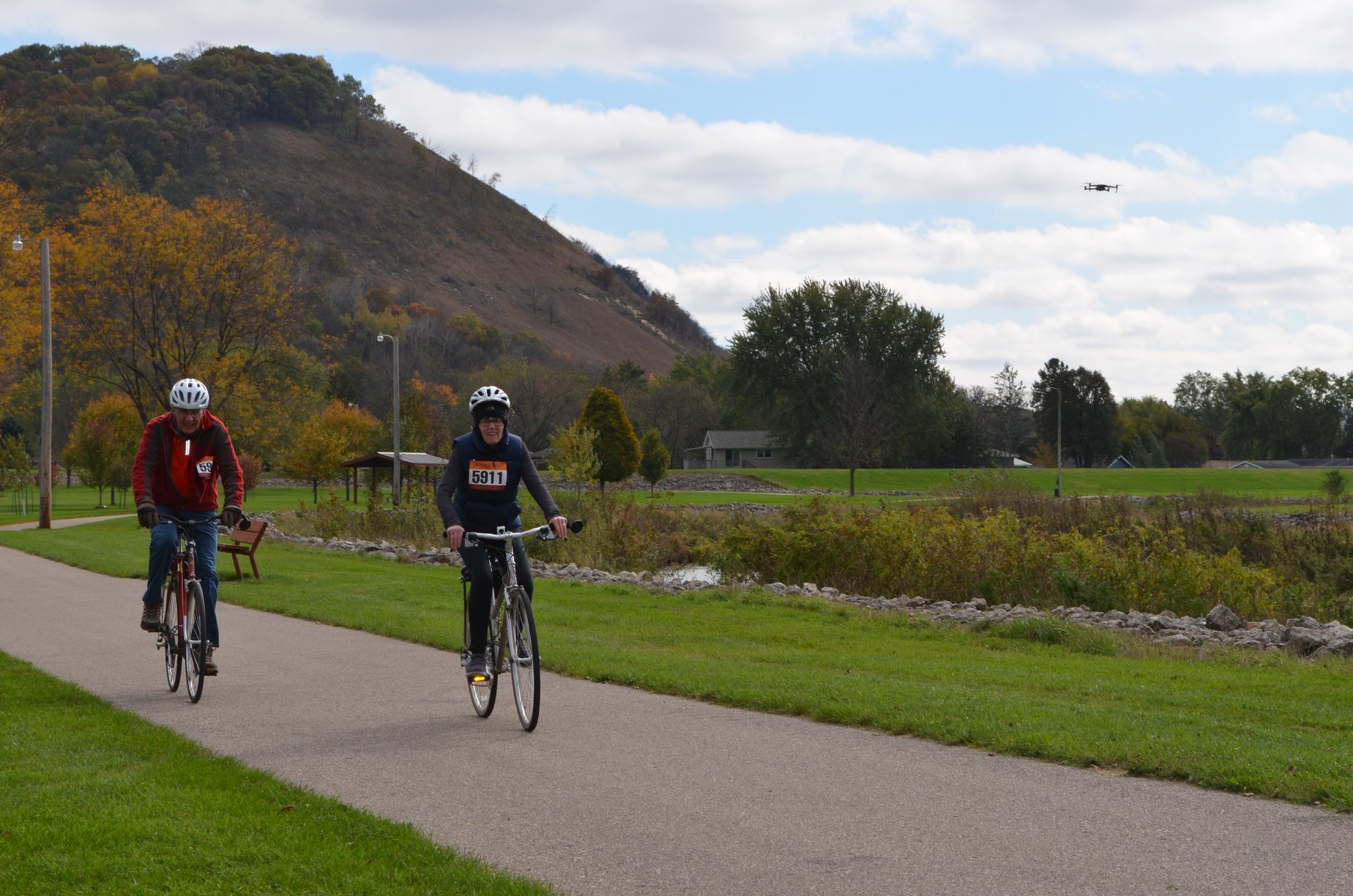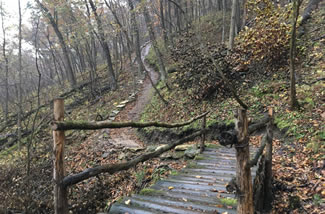 3.1 mile run


Starts at Creekside and goes toward Houston on the Root River Trail.

15.5 mile bike


Starts at Creekside in Rushford, goes past Peterson on the Root River Trail, and returns along the same route.

2.1 mile hike


Starts at Creekside and goes to the top of Magelssen Bluff and back down.
ENTRY FEES:
Individual Entry (Run-Bike-Hike) $50.00
3-Person Relay Entry $60.00
Register online at www.tempotickets.com/blufflandtri.
Follow Bluff Land Tri on Facebook
_____________________________
Bluff Land Tri News:
---
Bluff Land Tri Results
2019 Results
Overall winners
Female:
Gold Jen Hengel Rushford, MN 1 Hr 33 min 43.2 sec
Silver Jenny Prinsen Rushford
Bronze Anna Sanchez Rochester
Male:Gold Kevin Greener from Mount Hope WI 1 Hr 21 min 9.8 sec
Silver Grant Evavold Savage, MN
Bronze Cole Doblar Rushford, MN
Student:
Gold Mitchell Ledebuhr 1 Hr 28 min 17.5 sce
Silver Ricky Buchanan
Bronze Brad Colbenson
Staff:
Gold (tied) Jeremy Tesch/Gary Wade
Bronze Mike Honken
Relay winners were the Prinsens!
Ryan – run
Andy – Bike
Aaron – Hike
Silver relay winners were:
Ethan Angler
Tim Rislov
Mark McNeil
2019 Bluff Land Tri Results (all participants)
2018 Bluff Land Tri Results
2017 Bluff Land Tri Results