July 16, 2022  |  Ages 3-10  |  Rushford Days Fest Grounds
The 4th annual Bluff Land Trojan Kids Challenge will be held during Rushford Days – Find the course on the east side of Creekside Park! Calling all kids, ages 3-10, to channel your favorite super hero powers to complete this obstacle course! Be prepared to run, crawl, climb, and get a little wet and dirty.
The course will be open 12-1:30 p.m. for practice and for those that want to try the course for fun.
Competitors: Sign-up for races based on age group. The races will begin at 1:30 p.m.
Age divisions: 3-4, 5-6, 7-8, 9-10, with medals awarded to each division winner.
Hosted by the Foundation for R-P Schools, this event has no entry fee thanks to a donation from the R-P Booster Club.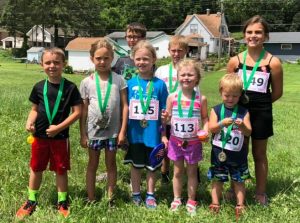 Congratulations to our 2019 winners!
Ages 3-4: Kiersten O'Donnell and Anders Woxland
Ages 5-6: Kendall O'Donnell and Rees Reinhardt
Ages 7-8: Norah Meyer and Isaak Michel
Ages 9-10: Adalyn Colbenson and Henry Meyer
Thanks to all the parents who brought their kids to participate. We had a great day of running, jumping and crawling! We hope to see you all back next year!