TBD during 2021 Rushford Days  |  Ages 3-10  |  Rushford Days Fest Grounds
Kids run, jump, crawl their way through a kid size obstacle course.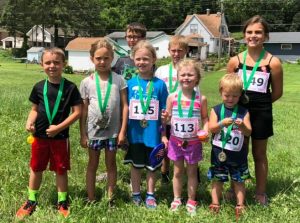 Congratulations to our 2019 winners!
Ages 3-4: Kiersten O'Donnell and Anders Woxland
Ages 5-6: Kendall O'Donnell and Rees Reinhardt
Ages 7-8: Norah Meyer and Isaak Michel
Ages 9-10: Adalyn Colbenson and Henry Meyer
Thanks to all the parents who brought their kids to participate in the Junior Bluff Land Tri. We had a great day of running, jumping and crawling! We hope to see you all back next year!
The kids who participated in the 2019 Junior BLT are pictured below.