Sunday, July 19, 2020  |  Ages 3-10  |  Rushford Days Fest Grounds
The Bluff Land Trojan Kids Challenge more accurately reflects what this event is all about.
Kids run, jump, crawl their way through a kid size obstacle course.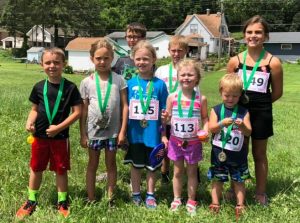 Congratulations to our 2019 winners!
Ages 3-4: Kiersten O'Donnell and Anders Woxland
Ages 5-6: Kendall O'Donnell and Rees Reinhardt
Ages 7-8: Norah Meyer and Isaak Michel
Ages 9-10: Adalyn Colbenson and Henry Meyer
Thanks to all the parents who brought their kids to participate in the Junior Bluff Land Tri. We had a great day of running, jumping and crawling! We hope to see you all back next year!
The kids who participated in the 2019 Junior BLT are pictured below.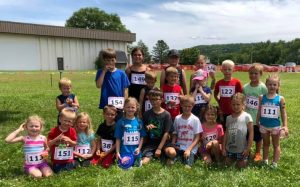 THANK YOU TO OUR BLUFF LAND TRI SPONSORS!  *AcenTek, Anderson Auto, *Brown's Tire and Battery, Engelson & Associates, *Farmers Win Coop, Fastenal, Horihan Insurance, Lind Awards Engraving, Lion's, M&M, Marine Credit Union, *Merchants Bank, *MiEnergy, Nordic Lanes/The Creamery, RiverSide Electronics, *R-P School Administration, Rushford American Legion, *Rushford Foods, *Rushford Lutheran Men's Club, *Rushford State Bank, Shawnee's Bar & Grill, *Thrivent.
* denotes a major sponsor