R-P Foundation Scholarships – 2019 winners have been selected and will be announced at Senior Awards on May 19, 6:30pm at R-P Schools. The foundation will be presenting 11 college scholarships.
The Foundation for R-P Schools is heavily focused on providing scholarships for high school seniors who are pursuing post-secondary education. The Foundation provides multiple $500 scholarships to graduating seniors and has continued to grow. In 2018, thanks to the generous donations of area businesses, the Foundation was able to provide five trade focused scholarships.
Apply for R-P Foundation Scholarship
Currently enrolled 2019 graduating seniors from Rushford-Peterson High School are invited to apply. Download the application and drop off the completed application in the R-P School Counselor's Office or email it to jennyhelgemoe@r-pschools.com. Contact School Counselor Jenny Helgemoe at 507-864-7785 x1010 if you have questions about the scholarships or the application process.
Deadline is March 22, 2019. Download and print the R-P Foundation Scholarship Application 2019.
---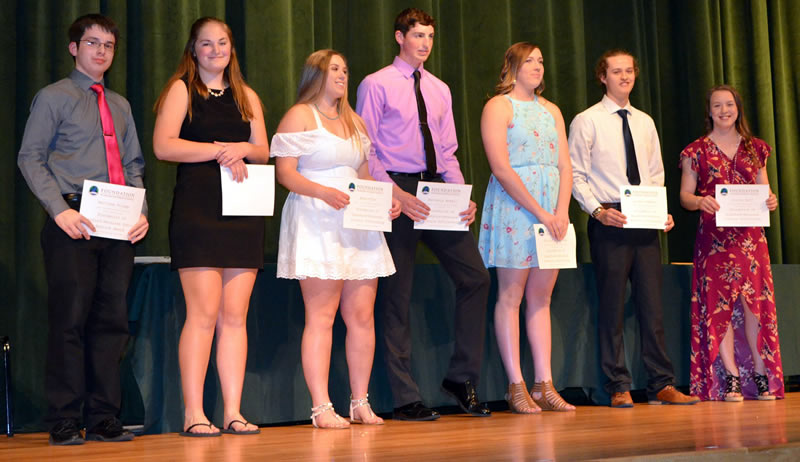 2018 Foundation $500 Winners
Olivia Hoff, Hannah Ledebuhr, Jordan McNamer, Nicole Blagsvedt, Ben Ansell, Anna Kjos
Photo of Foundation recipient left to right: Matthew Strapp, Hannah Ledebuhr, Anna Kjos, Ben Ansell, Nicole Blagsvedt, Jordan McNamer, Olivia Hoff.
2018 Foundation Service Awards ($250)
Matt Strapp, Hannah Ledebuhr
Past Years Foundation Scholarship Recipients
2017 – Bailey Bestul; Joy Hundorf; Nathan Wick; Savannah Skalet; Julianna Malone; Ellen Nelson
2016 – Tanner Morrison; Bailey O'Hare; Keean Benson; Carissa Bieberdorf
2015 – Jonnie Koenen; Josh Brown; Connor Johanson; Jordan Honken
2014 – Austin O'Hare; Jordan Bergan; Hope Morrison; Haley Mueller
2013 – Kaitlyn Thelen; Amy Todd; Ruth Lee